Teachers: boost student engagement with HiLink's latest feature updates
We're excited to share some of the latest student engagement features available on the HiLink Platform with you. We know how important it is to make sure that your students are not only listening to lessons in the virtual classroom but actively participating as well. We want to make sure your HiLink experience is the best it can be! Our newest features are designed to keep your students engaged during class while also keeping the learning experience fun for all.
Read on for a more in-depth look into our new and updated student engagement features.


1. Level up the media sharing experience
Our improved, cloud-based media player feature can now support MP4 files and YouTube videos. Videos are a great supplementary tool, even in the virtual classroom. Most students love the chance to engage with their learning by watching!
Now we've made the experience for you even better. Presenters can now run uploaded files smoothly and clearly without the fear of lagging, loading, or decreased image quality that comes with traditional screen sharing. This way, by helping you reduce file compression, the content you need is right at your fingertips exactly when you need it. To use, the host clicks on the media player icon, selects their previously uploaded file or enters a YouTube link, and the clip will play from there.
HiLink Media Player: YouTube
2. Work together with instant teamwork capabilities
Not only does the whiteboard give students the chance to exercise their creative muscles in a fun, collaborative way, but it also mirrors what they might expect from an in-person classroom. This interactive tool allows for student engagement by providing:
Instant collaboration. Both teachers and students can write and draw on the whiteboard simultaneously. This saves time and allows for real-time visualization and conversation between student and teacher.
HiLink Collaborative Whiteboard
Accessible problem-solving. Our whiteboard also includes a built-in graphing calculator perfect for working out those advanced math problems. Students can solve and show their work exactly as they would in a traditional classroom. Simply type in your equation, and the HiLink calculator will generate the graph and functions you need to get started!
Whiteboard: Math Class Scenario
3. Test and check student understanding
Your HiLink experience can now go beyond simple verbal exchanges. Sometimes class gets quiet, or students aren't brave enough to volunteer answers or ask questions. Quizzes and polls are a quick and easy way to not only ensure students are paying attention and understanding your material, but also make them an active part of the eLearning experience.
For a quiz you simply:
Decide what type of question you would like to ask (true/false or multiple choice)

Type your question out

Select or write out the correct answer

Set your quiz time duration and publish
Student Engagement Tools: Quiz
For a poll, it's a similar process:
Type out your question and response choices for students

Use the stopwatch feature to set your time duration and publish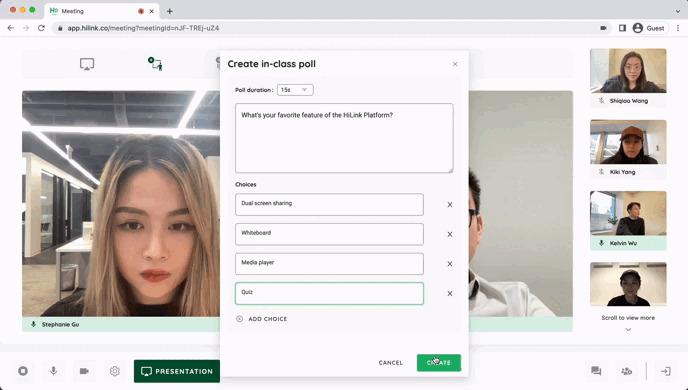 Student Engagement Tools: Poll
Results for both features can then be displayed onscreen and remain anonymous for the class. This increases student engagement as the fear of having to answer in front of classmates, or even the teacher is erased.


4. Present virtually with in-person techniques
Virtual presentations just got a lot more interesting thanks to our last update! Now, if your presentation includes any sort of animation, whether that's a GIF or an embedded video file, it will play in real-time on the platform. Simply open your pre-uploaded slide file from the media player and go from there. You may now also annotate directly onto your PowerPoint as you present: after you've opened your file, select your desired writing tool from the menu on the left-hand side of the presentation. So, when questions arise, or you need to emphasize a certain point just a bit more, you can write, draw, and markup your slides exactly as you see fit.
PPT Animation & Annotation
Ready to improve your student engagement?
We'd love to be a part of your classroom experience! To learn more about HiLink's platform features and test them for yourself, sign up for a free trial! We can't wait to get in touch and show you more about the HiLink Platform.